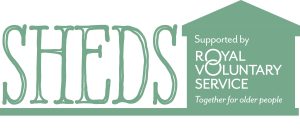 Local community groups across the UK are today being encouraged to apply for a share of the Sheds Grant Fund as it opens again for applications to help support the set-up of community Shed spaces.
Sheds are designed and run by their members and provide opportunities for people to socialise, share tools, resources and skills in order to create, learn and develop social networks.
Older people's charity Royal Voluntary Service (RVS), with funding from theAsda Foundation, run the Sheds Grant Fund to provide small scale funding to Sheds who are looking for help with either set up or next stage development costs.
During 2016, 29 Sheds were awarded funding to kick start or grow their ambitions.
TheSheds Grant Fundis ran in conjunction with the four national Shed Associations representing and supporting Sheds in Scotland, England, Wales and Northern Ireland. Jason Schroeder, Executive Officer of the Scottish Men's Sheds Association said: "We are thrilled that by working together with our national partner RVS we can support this kind of initiative to help in the early stages of Men's Shed development and thereby benefit individuals, their families, and local communities."
Jo Phillips, Sheds Project Manager at Royal Voluntary Service said:  "Each Shed is unique due to its location and the activities that the members want to undertake in the space. Whether it is for woodworking, gardening, model making, weaving or electronics, we are delighted to be able to give a helping hand to local communities who want to get a community based Shed up and running."
Julie Ward, Manager of the Asda Foundation said: "The Asda Foundation is one of the many ways we can give something back to our local communities. That's why we lend a hand to a wide range of good causes with which our colleagues are involved with, sharing their passion and helping to make a difference through a variety of projects across the UK.  We see the Sheds programme as making a real difference at a grassroots level and are proud to support this initiative."
Grants of between £250 and £1,000 are available from the Sheds Grant Fund. All applications need to come from constituted, volunteer led community groups and must be submitted by the deadline of Sunday 5th March to be considered.
To find out more about Royal Voluntary Service and Asda Foundation Sheds Grant Fund and download the Application Form and Guidance Notes, please visit: http://www.royalvoluntaryservice.org.uk/sheds
Good luck Shedders!