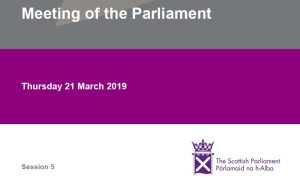 Motion debated,
That the Parliament recognises the important contribution that the Men's Sheds movement makes to people's wellbeing; notes that there are now sheds running or in development across the length and breadth of the country, including in Lauder, Galashiels, Peebles, Mayfield and Roslin; understands that the activities and groups vary from community to community but that, by and large, the sheds provide a meeting place for men to undertake activities in a friendly, supportive and social environment; believes that such groups can have a positive impact on men's mental health and wellbeing by providing supportive groups that offer an opportunity for them to feel more able to open up about anything bothering them as well as helping them build positive ties in their community, and hopes that more sheds can continue to be established.
The Cabinet Secretary for Communities and Local Government (Aileen Campbell) concluded by saying, ' I think that we all agree that men's sheds are brilliant things. They are safe places in the hearts of our communities throughout Scotland, from Shetland to the Borders, that bring people together and enable people to support each other through friendship and trust. They are simple but impactful, and they tackle serious issues that vex Government and society, including wellbeing, mental health and loneliness, to name but a few.
Getting behind the men's sheds movement is therefore in all our interests. That does not mean the Government alone; a partnership approach will be required. I am grateful for the support that the Government receives from Age Scotland, the Scottish Men's Sheds Association and Glasgow Caledonian University, to name but a few organisations.
We can go further. I urge all our partners—local authorities, the third sector, the NHS and community workers—to get behind sheds so that we can all together play a role in developing and supporting that important initiative. Social prescribing is particularly important: with an ageing population, it is absolutely in all our interests. These simple projects help us to create the connected and resilient communities that contribute to the betterment and wellbeing of our country.
For the Men's Sheds part of the full day of Parliaments debates download from the link below.