Tesco Bags of Help Funding 
Tesco Bags of Help has already funded 780 projects in Scotland – sharing over £4 million pounds between them. As the nights get shorter it's time submit your application for projects you'd like to happen in Spring 2018 and beyond. We fund a huge variety of projects that bring benefits to the community and every two months in Scotland we award 225 projects a share of over half a million pounds.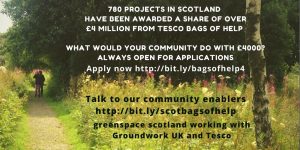 Single use carrier bags are no longer available in Tesco but the good news is that Bags of Help will continue with funding from the sale of the new 10p Bag for Life.
Apply online here http://bit.ly/bagsofhelp4
Apply anytime for projects that bring benefits to the community
Apply for capital and revenue funding between £1000 and £4000
Community groups, schools, charities, local authorities and not for profits can all apply
Get help to apply from one of our team of Community Enablers http://bit.ly/scotbagsofhelp