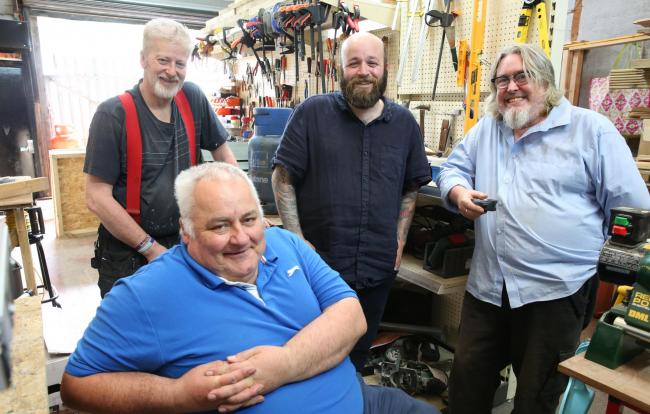 The public has voted and—after 1,579 votes and a very close race—The Inverclyde Shed has been crowned Scottish 'Men's Shed of the Year' 2020 by the Scottish Men's Sheds Association (SMSA).

It was neck and neck between the three shortlisted Sheds as the public voted online for their winner from Garnock Valley Men's Shed, The Inverclyde Shed and Kinross & District Men's Shed.
The Inverclyde Shed was announced as the winner—receiving 573 (36%) of the votes—at the SMSA AGM & 'Men's Shed of the Year' Awards 2020 on Wednesday 16th September on Zoom. Garnock Valley Men's Shed came a close second with 511 votes and Kinross & District Men's Shed was the second runner-up with 495.
Chairman of The Inverclyde Shed, Bruce Newlands, said: "We are absolutely delighted to have won this prestigious award and title. This shows a huge vote of confidence that there are really good people doing some really great things here in Inverclyde!

"It was encouraging to hear Aberchirder & District Men's Shed share what they have gained from winning the SMSA award last year and we hope to be just as successful. We plan to really maximise the potential of this opportunity to further promote ourselves in our local community, and with funders, to expand our offering and attract more men along to our Sheds.
"It must be recognised that, although this is a competition, there is absolutely no rivalry with our fellow Men's Sheds. Sheds are all at different stages and sizes and we have only been inspired, encouraged and supported by other Sheds to implement activities and ideas that have worked for them. We invested in a 3D printer after hearing about Kinross & District Men's Shed creating face visors for frontline workers and launched a carving club after hearing about the success of the modellers' club offering at Garnock Valley Men's Shed. This award showcases the great work being carried out by Sheds across Scotland so we can share knowledge and ideas to improve the health and wellbeing of the men in our communities."
The Inverclyde Shed was formally constituted in January 2018, offering a safe place for men to make friends, learn new skills and mentor others at its first 700sqft Shed at Captain Street in Greenock. The charity has grown from strength to strength and now has a board of six from a cohort of 45 active voting members and almost 500 associate members. The Shed expanded its offering to include a second 700sqft workshop space by mid-2019.
In March 2019, the Shed successfully secured funding from the National Lottery Community Fund to cover rent for the next five years.  In August 2019, the Shedders took on the management of a community garden space in Gourock and were successful with a Community Asset Transfer – 25-year low cost lease request – for a 4,000sqft industrial unit in Greenock in March 2020. Renovation is targeted to start in May 2021 subject to success with the Scottish Government Regeneration Capital Grant Fund. The charity has also recently been able to open a smaller Shed focused on digital fabrication/distance working in Gourock, partly as a response to Covid-19 but also to attract a younger demographic. 
The three finalists each received a cash prize from the SMSA; free or discounted Machine Competency and Woodwork training day from partner, David Young Training; and a year's free Shed accounts package from Thyme Accountants to support the Shed Treasurer. The winner also received the esteemed targe trophy and a £100 voucher from partner, Axminster Tools & Machinery.
Last year's winner, Aberchirder & District Men's Shed (ADMS), will hand over the esteemed targe trophy at a physically-distanced handover in the near future. ADMS has been busy in lockdown designing and producing a unique stand for the trophy to be passed on to this year's winner. ADMS received a surprise at the online awards event when they were shown a replica of the trophy, created by David Young Training, to display in their Shed to forever recognise them as the Awards' inaugural winner.